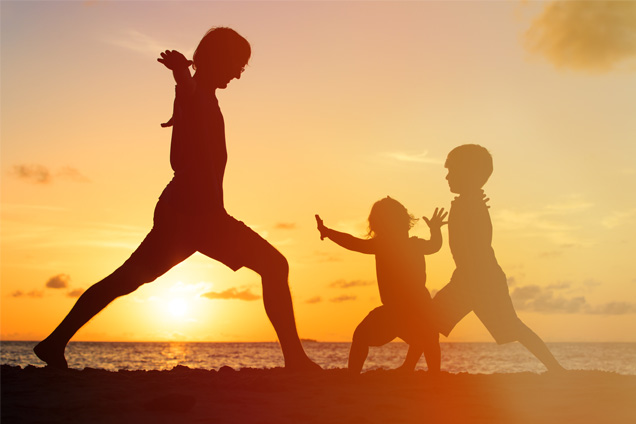 Feel with the body. Sophrology to help children relax
Sophrology is a relatively recent discipline, born in the early 60s, which helps the mind and body relax. Alfonso Caycedo, Colombian neuropsychiatrist, considered the founder of sophrology, defines it as a 'pedagogy of happiness', precisely because it aims to help each individual to develop his own consciousness and psychophysical harmony through relaxation techniques, physical and mental, as well as deep bodily and respiratory movements.
In recent years, Sophrology has also been widely used with children: in the educational field to develop attention and memory, and in the sports to increase concentration, motivation and manage forms of stress.
In this regard, Melanie Butruille, French sophrologist, specialized in supporting children, who uses Ocarina in her work, tells us about her therapeutic experience with children. A work which, in this period of strong emotional stress, is becoming more and more known and necessary, even for the little ones. Parents often ask for her help for several reasons, such as helping their children to learn to relax, to concentrate, to manage anger, to promote falling asleep …
If up to 8 years old, a playful sophrology technique is preferred, with exercises and dynamic games, for the older ones we are starting to offer relaxation tools that require a greater ability to remain passive and focused longer.
Music is certainly a very valuable tool to help children relax, such  that Mathilde Butruille uses it in each of her sessions, favoring the sounds of nature, such as rain, wind and waves, able to transmit security and tranquility.
She asks children to choose the sound of nature that evokes positive memories in them, and then perform breathing exercises.
For the little ones, the first approach is always with the game: the child chooses a music and from there they are offered games aimed at stimulating concentration, for example.  
Music is essential during therapeutic sessions but also at home, to promote relaxation and falling asleep. Mathilde Butruille tells us that she often records a session or a sophronic story directly on Ocarina so that the children can listen to it again at home.
Among the tips she gives parents to help their children relax, one is to record their favorite story with their own voice, so that the child can continue to listen to mom and dad voices independently, directly in his bed. In this sense, Ocarina is an ideal instrument, capable of giving authentic moments of serenity.
We would like to thank for her contribution Melanie Butruille, sophrologist, specialized in 'child support'.