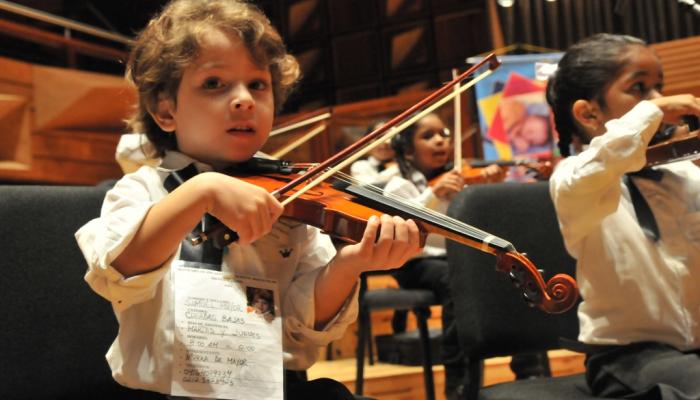 Music as rebirth. The history of the Orchestra of Children founded by Abreu
Today we want to tell you about a beautiful story born in Venezuela 40 years ago. In 1975 the economist and musician José Antonio Abreu founded El Sistema, an educational and musical pattern system that guarantees free and open access to music for children of all walks of life. The system has as its main purpose the protection of children and young people through commitment and the study of music, preventing anti-social and criminal behavior. An artistic and social importance at the same time. José Antonio Abreu started with the idea of redeeming the young people of his country, but to date the 'Fundación del Estado para el System of Juvenile and Orquesta Infantil de Venezuela' has become much more, which is a model for the entire South America and for all Western countries. In Italy, only six years ago he was born the System of Orchestras and Choirs Youth and Children with the aim of spreading the music education as a response to the difficulties which affect the youth. Already more than 8500 children and teens, aged 4 to 16 years, are participating in the growth of this social project, meeting 44 orchestral Nuclei distributed in 14 Italian regions.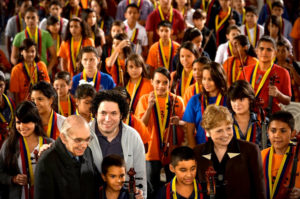 Even the Fiesole School of Music is sponsoring it, like many other realities scattered throughout Italy. In the district of Piagge, in collaboration with the high school Duca D'Aosta and Unicoop Scuola, it was born the orchestra project Mammamù. Mamma Musica, keeping music at the heart as an effective instrument of integration. As told by the master Antonello Farulli: "the criterion that ordered the inspiring ideas of the training program was that the deprivation even before discomfort and marginality is the cause of most of the individual's intellectual development problems. Sound-Movement-Mind is the human path. The mind, the thought, borns from the voice of the mother, through movement. Our job is to trace the human being in the opposite direction. From the mind through movement we come to the sound. We try thus to solicit in children all the perception that somehow the environment had not solicited in them. Studying the music means to be born again from a educational and perceptual point of view. In Piagge as in Ramallah, in Palestine, in Venezuela, but also in Medellin into the Colombia of Narcos, or in Mexico rather than in Brooklyn, the music indicates the path that leads human beings from fear to freedom. "
If you have the wish to go further into that, we recommend the documentary over El Sistema, directed by Alberto Arvelo, entitled Tocar y Luchar (2004) and that of Helmut Failoni and Francesco Merini "The other voice of music. Traveling with Claudio Abbado between Caracas and Havana "(2006) and the film "El sistema. Music to change life" (2008) by Paul Smaczny and Mary Stodtmeier.