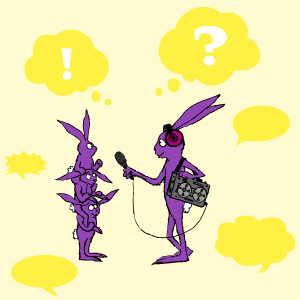 Playlist Bloom – la radio des enfants
This week we asked to our friends of
Bloom
, the best radio for children made in France, to propose a selection of their work.
We are very happy to publish here their response:
Bloom – the children's radio – produces rich and varied audio tracks to listen with ears in alert and eyes wide open to the world.
We launched Bloom four years ago, noting a lack in this sector in France. There is an huge offer of video animation for children: cartoons, movies, video games, mobile applications. We wanted to offer something different, an alternative to this world of all screens.
There are also many CD of tales and nursery rhymes, but not a real media Radio for children. We started with enthusiasm in producing playful and intelligent tracks: tales and nursery rhymes, of course, but also entries on the world of gymnastics, of children's questions and stories, games… We can do everything with the audio!
We met a great success with the arrival of our first compilation: Bloom – radio des enfants: Y'en a marre! production where we joined with the children to see how beautiful life is. Children and parents have listened to our programs with family fun. It has been especially our quirky tone that caught their attention.
We then published several compilations: Bloom – radio des enfants: En route! to go around the world, Trop fort!where we discover the great heroes of everyday life, Le froid c'est magique describing the winter delights, une journée avec Bloom! to accompany the youngest in the awakening, and a whole series of questions to see life through the eyes of children, solar polar expedition programs of two eco-adventurers, and many other things …
All of our compilations are designed to be listened to by car, train or plane, to occupy the children during long trips.
Bloom – radio des enfants
 is primarily a proposal for children to rediscover the pleasure of listening, as we did when young. Allow them to imagine, to dream and to project to the world. All early childhood's professionals agree in saying what the sound is good for the development and welfare of the child.
We have prepared for you today a selection of English-French bilingual songs that are sure to satisfy your children. You will be amazed to see the words repeated in a foreign language with much ease.
But the aim is above all to have fun and dance!